If you're a regular Google user (like nearly 74% of the world's searchers), you've probably noticed there's a lot more to a Google search results page than just a simple list of websites to click on. From showing recipe ratings and local map results to "knowledge panels" that try to directly answer your questions (like the weather forecast below), Google tries to make it easy—and fast—for you to find the information you're looking for.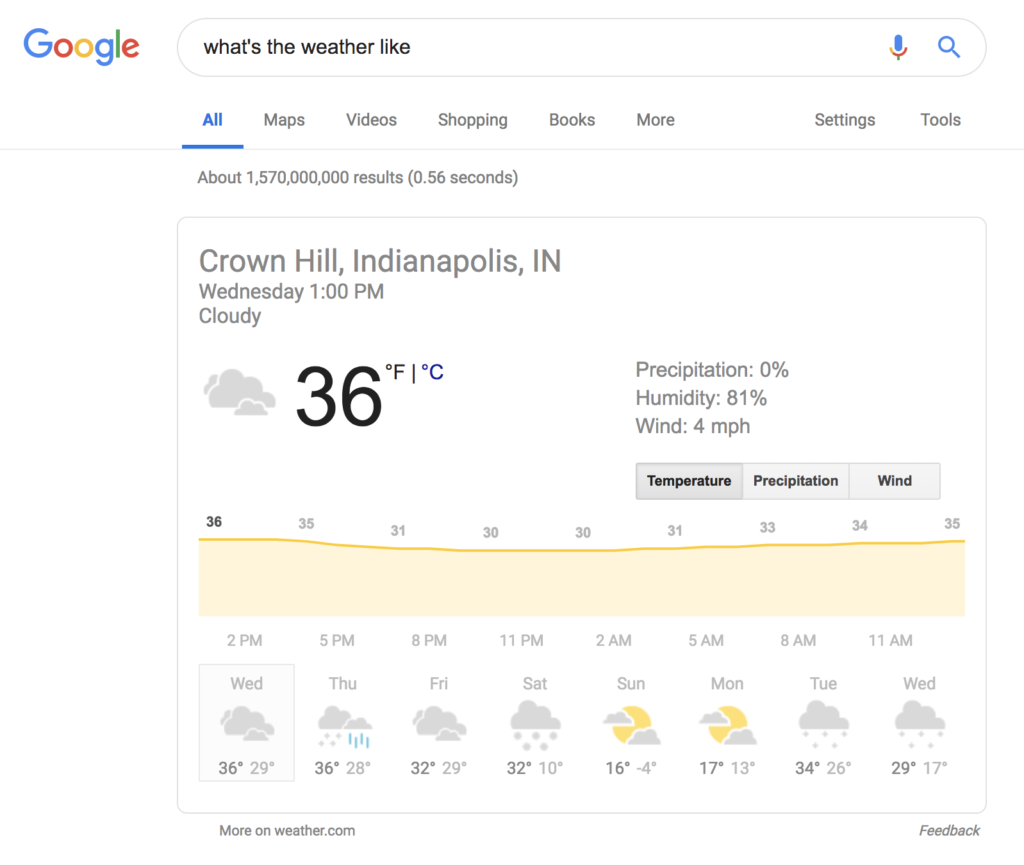 So what does that mean to a business, organization, or association trying to attract attention online?
It means those willing and able to take the right steps have more ways than ever before to get their brand in front of searchers—giving them an edge over competition. In short, if you can ensure you're supplying the information and signals Google is looking for, you can earn more impressions and clicks.
However, like most everything related to Google, you can supply all the right information, but you can't control what Google chooses to do with it. Google will show what it thinks is the best result at the best time, and that can differ depending on the searcher's location, past searches, and exact search query. Working on your site's overall user experience and SEO can help improve your chances in both normal organic results and these "extra" listings. And, of course, doing nothing will get you, well… nothing.
Okay, so how does it work?
As with most marketing strategies, what works best for you depends on your organization, audience, and goals. Let's go over a few of the most common "extra listings" available in Google and how to get them. If you're not sure if these strategies make sense for your brand, reach out! We're happy to help.
1. Google Maps / Local Results
Local results allow your business to appear for searches specific to your geographic area. They can appear in line with regular organic listings as a comparison of you to other local competitors, as in the image below.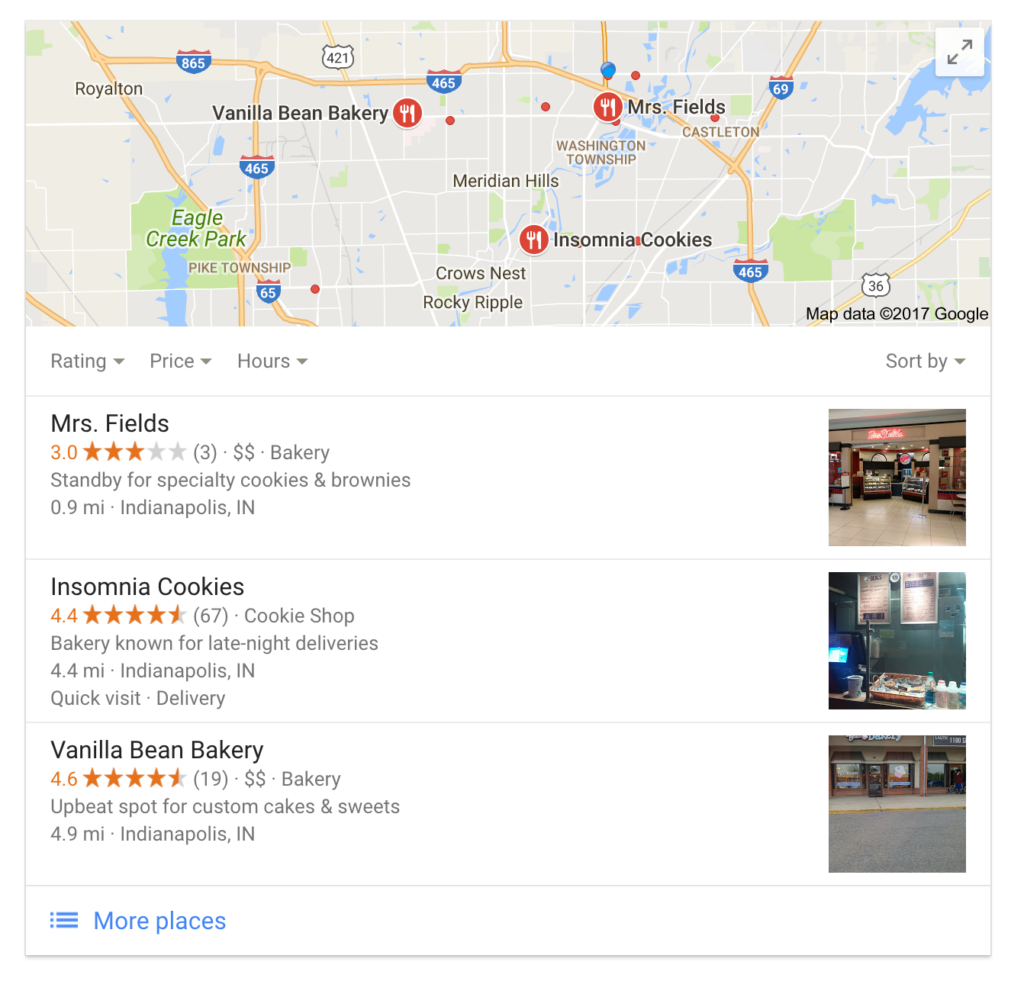 Or as an expanded local business "panel" in the sidebar of search results, like Brehob's listing here: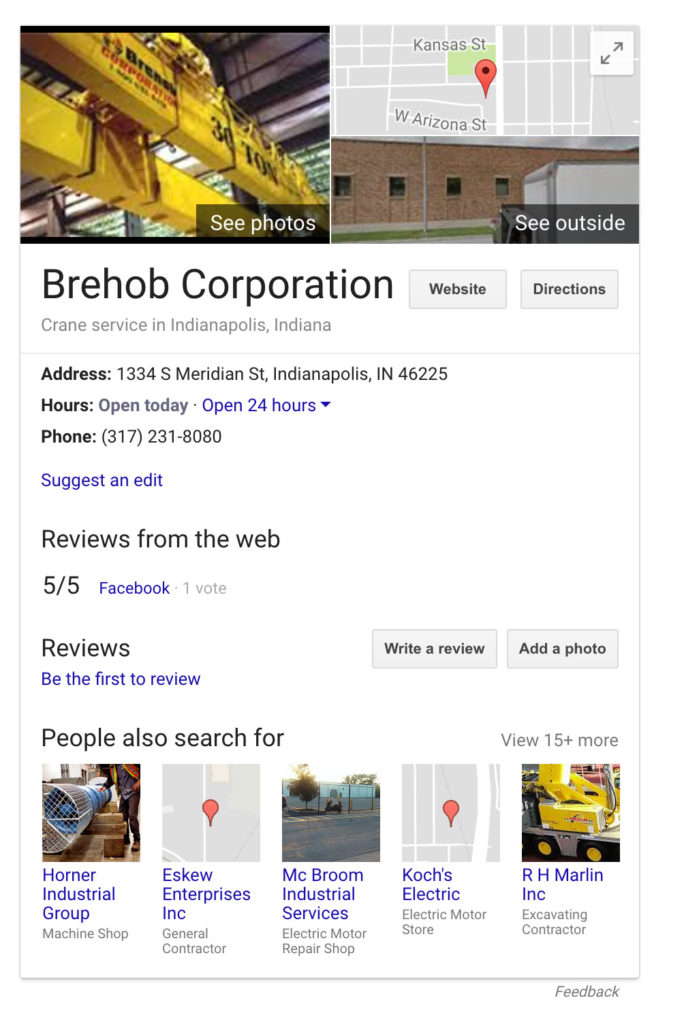 For both of these types of local results, the secret is the Google My Business Profile. Free and relatively easy to set up, a Google My Business profile lets you inform people of your hours, post photos, add different physical locations or service areas, and collect reviews from customers and partners.
How to Optimize:
When setting up your profile, provide as much information as possible to increase your chances of appearing for related searches—and make sure it's accurate! Your website URL, hours, physical address, and a menu URL if you're a restaurant can all help provide a positive user experience.

Pay particular attention to your main business category and the "attributes" section, since these can help you show up for more detailed and specific searches ("restaurant with great beer selection" for example).

Add photos, including your logo. A business profile with photos looks more credible and inviting to searchers.

Be sure to verify your address. Google will send a postcard to your physical location with a code on it that you'll then need to enter online. Once you've verified, your profile will be public and you'll have access to more insights and data.

Encourage customers to leave honest reviews. More positive reviews can improve your search visibility and help you stand out from the competition.

Work on your SEO. Google uses "

prominence

" as a factor in ranking businesses in local results, which is partly based on how much you're mentioned across the web. The PR, marketing, social media, content marketing, and link building efforts you're doing to help your website will help your local business listing.
2. Brand Knowledge Panels
Like local business panels, a brand knowledge panel provides a sidebar box in the SERPs (search engine results pages) with information about your business. However, brand knowledge panels are meant for non-local listings. Instead of reviews, a physical address, and hours, a brand knowledge panel provides information about a larger brand entity—like the date it was founded, its leaders, the mission, and its social media profiles.
These panels are a little more difficult for business owners to earn and control, since they're created not from a business profile but from information Google finds on the web—and they're only shown for businesses that Google has deemed sufficiently important.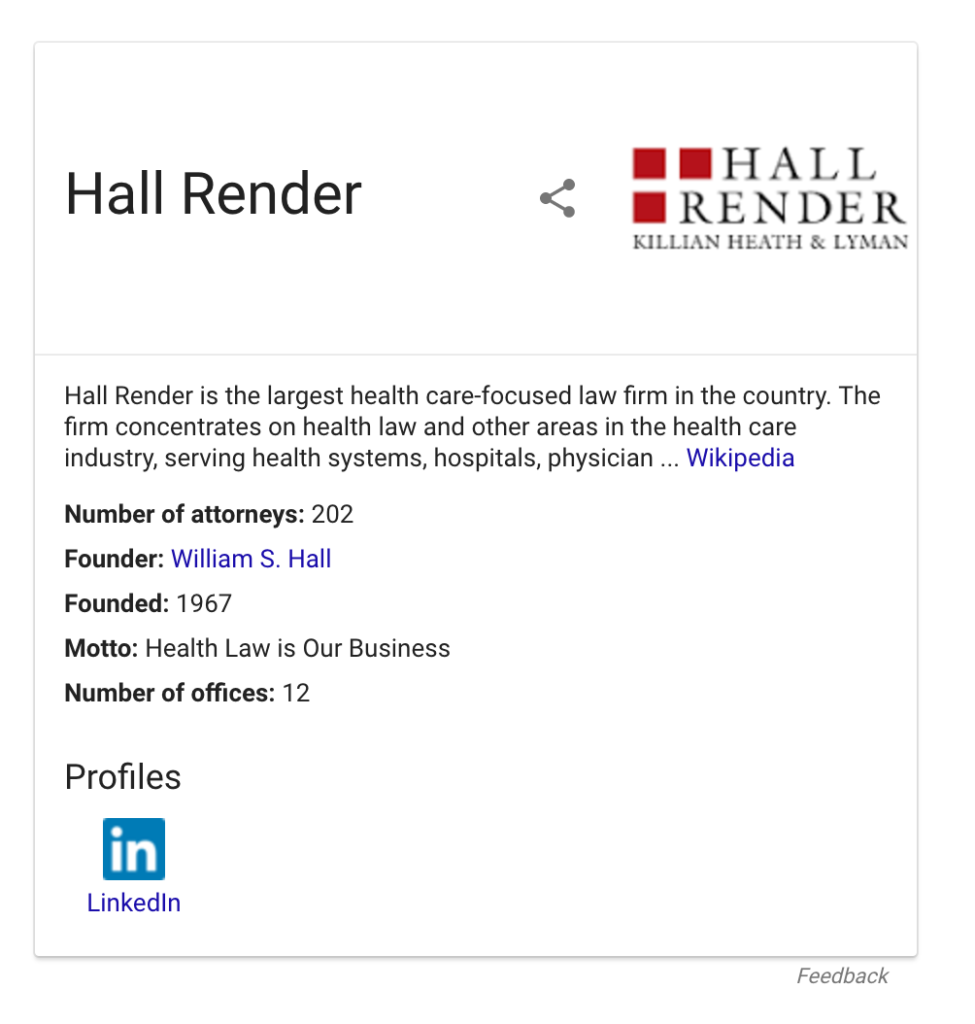 How to Optimize:
Where relevant, use

Schema markup

. Structured data allows you to provide information to Google—like your preferred website name, corporate contact info, logo, and social profile links—in an easy-to-pull format that the search engine can then use in SERPs.

Make sure you have a Wikipedia page. Google often pulls brand information from Wikipedia (and/or Wikidata, which is run by the same company). If you don't have a Wikipedia page yet, it's helpful to talk to someone who is a Wikipedia editor or who has experience with the platform's requirements, which can be difficult for small businesses or startups to meet. For example, articles must be written in an unbiased manner and supported with credible third party sources—and if your organization doesn't meet Wikipedia's standards for "notability," your page could be taken down.

Use Wikipedia's formatting options—infoboxes, for example—to include the information you want in your brand knowledge panel. It's helpful to look at competitors' Wikipedia pages for ideas and to see what Google is showing for their results.

Again, work on your SEO! If you're having a hard time getting a knowledge panel to show up for your brand, you may not have enough signals out there—website strength or age, backlinks, strong content, and rankings—to let Google know your site is important.
3. Featured Snippets
A featured snippet is a special search result that appears at the top of the SERPs and is designed to directly answer the searcher's question with a link to the source. You don't have to rank #1 to get a featured snippet listing—you just have to provide the answer to the given question in the clearest and most useful way.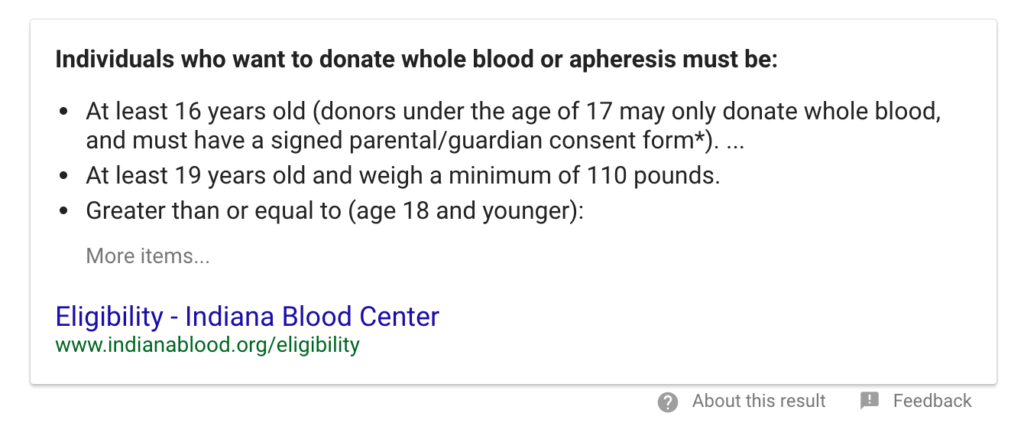 How to Optimize:
Do some research on what snippets already exist within your areas of expertise. Who's ranking there now and can you provide a better, more in-depth answer than your competitors?

Once you've identified queries to target, ensure you have content that answers the question in a valuable and clear way. Google wants to show the most useful response—make sure that's you!

Keep it factual and succinct in the section of content that you'd like snipped.

One study

suggests the ideal length for paragraph-based snippets is only 40-50 characters.

Structure and format your content clearly, with appropriate and "snippable" heading tags, tables, lists, and bullets where relevant. This is another area where it's useful to look at what competitors are doing, especially if they're being shown in featured snippets.

Look through the "People Also Ask" questions for relevant queries to find other snippets you might be able to win.

Choose queries for which you already rank on the first page. In a

2016 study

by Moz, every featured snippet they tracked was from a result that also ranked on the first page. It makes sense—if Google already sees your site as a valuable resource for this search, it will be easier to earn the snippet.

Not to beat this to death… but work on your SEO! The stronger your site is overall, the better your chances of success in getting your content and site to show up in any of these listings.

There you have it! Three ways you can go beyond the basic Google organic listing and expand your visibility online.
Ready to start working on your site's SEO? Let's talk about how we can help.