Hourly Employee Recruitment Marketing Is Hot
Think recruiting hourly employees is only a topic for your HR department? Think again. It's become a hot topic in marketing circles with articles and blog posts like Recruiting Ideas for Hourly Employees and The Best Recruiting Strategies For Sourcing and Hiring Hourly Employees. Low unemployment rates have made it a challenge for companies to recruit and retain qualified hourly employees. Over the last six months, we've had several companies ask Willow to partner with them to develop hourly employee recruitment marketing campaigns. Like any successful marketing campaign, recruitment marketing begins with a sound strategy. Read on to discover the best practices we use to help our partners implement employee recruiting strategies that get results.
Establish Employee Recruiting Campaign Parameters
Review any recruiting strategies or plans that you currently use and identify key goals and objectives for your recruiting efforts. To develop a recruiting campaign that aligns with your corporate brand and reflects your culture, focus your discussions around the following issues:
Aspects of your brand that appeal to potential employees
What makes you unique in the employer marketplace
Successful recruiting strategies – past and present
Prospective employee segments
Prospective employee touchpoint and journeys
Importance of company brands in the recruiting process
Relevance of geo-targeting recruiting efforts
Audit Employee Recruiting Marketing Materials
Be sure to include an audit of your existing recruitment marketing collateral such as direct mail, handouts, contact cards, videos, signage and advertising. Look at the language, tone, imagery and functionality of each piece. Content of job postings and job listings are extremely important to any successful recruiting initiative. Include a review of your job posts over the past 12 months.
Define Employee Recruiting & Onboarding Processes
Evaluate every channel and the process that you are using to reach prospective employees. Do you have an integrated strategy in place that connects all the touchpoints available to reach prospective employees? Are you presenting a common voice across all of your channels? Channels can include:
Website – An easy-to-follow and simple process is critical to moving potential employees through your website's application process.
User Experience – Review your site for best practices in employment recruiting in terms of design, functionality and user experience.
Page Optimization – Look for factors that might be influencing how your pages appear in employment search results.
Site Architecture – Examine how the website's layout and navigation present employment information to visitors and guide them through the information they need.
Website Traffic Patterns – Use Google Analytics for appropriate sections of your website to better understand where traffic to these pages is coming from, what visitors are doing when they get there and what content they're consuming.
Keyword Research – Collect and analyze keyword search terms around employee recruiting to see which you and your competitors are ranking for to attract qualified prospective employees.
Conversions – What are the conversion rates for any employment forms you have on your website? Do you have clear calls-to-action on your website?
Email – Review email campaigns that you are currently using to engage prospective employees. Look for additional opportunities to reach out, as well as to automate the process where possible.
Analyze Findings & Insights
We have a critical checkpoint meeting to share what we've found with our partners. Covered in this discussion are:
Audit findings and insights
Definition and description of employee segments
Geo-targeting strategy (if applicable)
Mapping of prospective employee journeys
Opportunities & recommendations for developing an employee recruitment kit
Design Employee Recruitment Kit Concepts
Armed with insights from our audit and a thorough understanding of the journeys that prospective employees take in becoming an applicant and then an employee, we create a campaign concept, including a tagline, for your organization. Once the final concept and tagline have been approved, Willow will develop recommendations for an Employment Recruitment Kit strategy. The strategic analysis will include:
Ideas for types of collateral pieces to be included in the Employment Recruitment Kit
When and how to use collateral pieces during the prospective employee journey
Recommendations for rolling out and training personnel for the Employee Recruitment Kit
Thoughts on gauging the success of recruitment concepts and processes going forward and suggested
Key Performance Indicators that are relevant to track the performance of the Employment Recruitment Kit
And now for the icing on the cake! (It's what we're good at.)
Develop The Employee Recruitment Kit
Based on the approval of our partner, we design and produce a customized kit of materials that is appropriate for the organization. The Employee Recruitment Kit may contain, but is not limited to, print ads, recruitment event signage, social media ads, full-page handouts and email templates. Graphic design and messaging are included for each item as needed.
Now for the fun part! We want to share some of our Employee Recruitment concepts. We can work our recruitment campaign magic in almost any industry. Take a look at what we've created for clients Custom Concrete and Brehob Corporation: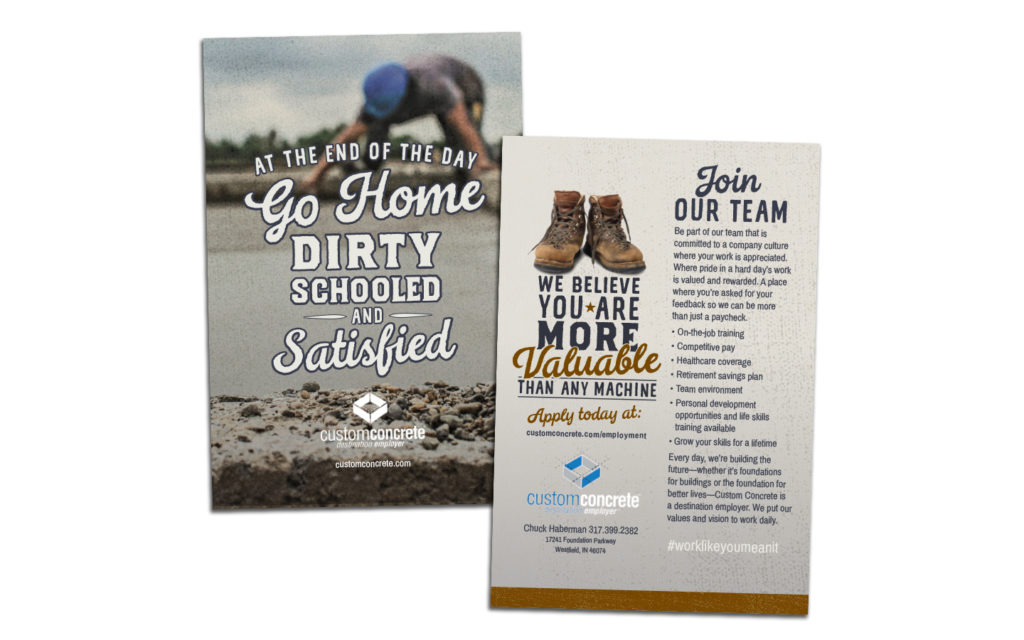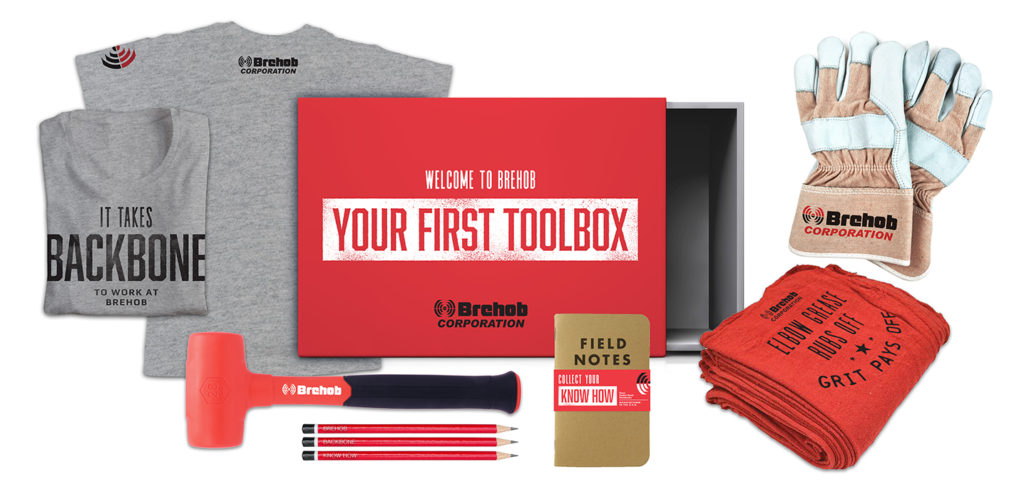 Feeling a little overwhelmed by all the possibilities? We're here to help. It's one of Willow's core values. Contact us and we'll make you a winner in the hourly employee recruitment race.