What your brand architecture means for your business
Ever gone house hunting? If so, you may have been asked by a realtor about your style preferences. Mid-century ranch? Colonial two-story? Cape Cod or bungalow? Whatever your taste, the architecture of a house is what speaks to you. It tells you how the house is built and what you can expect to find on the inside.
In the same way, brand architecture defines how a brand appeals to consumers and offers hints on what the brand is made of internally. The two primary strategies when discussing brand architecture are the Branded House and the House of Brands. Though they sound similar, in reality, they are built on very different foundations.  
Branded House
A Branded House is the most common form of brand architecture. Major brands like Google and Apple are exemplary models of this style, wherein both have smaller sub-brands, but all are marketed and operated under the umbrella of the parent brand. For instance, you might check for appointments in your Google Calendar. Later, you write a message in Gmail. Tomorrow, you'll complete a budget in Sheets. Each of these products is a sub-brand of the parent company, but they do not operate independently of one another, and they never overshadow the primary brand. FedEx is another company that has done an excellent job with their branding and has certainly reaped the benefits of taking the Branded House approach. Their brand lineup includes not only FedEx Express, but FedEx Freight, FedEx Ground and FedEx Kinkos.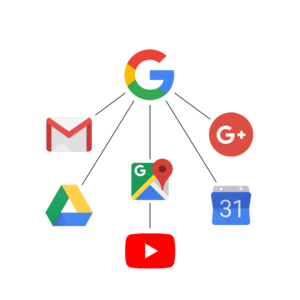 Google Branded House
Upsides
A Branded House strategy offers numerous benefits to companies that offer multiple services or products under one branded entity, including:
Efficiency – one marketing strategy and one brand code covers every offering

Ease – confusion and competition are avoided by keeping every offering under the same brand

Evolution – a strong brand can lead to greater success for future offerings and new products, as consumers are more willing to accept change from brands they already trust
Pitfalls
Though Branded House strategies make sense for many businesses, there are still a number of potential issues to consider.
Reputation – products and services are tied to your brand's public perception, leading some consumers to take an "all or nothing" approach

Limitations – a great product doesn't mean great success if the parent brand is weak or underperforming

Ambiguity – confusion over what your brand does (e.g. Apple: Is it a computer company? A music store? A phone manufacturer?)
House of Brands
A House of Brands is the exact opposite of a Branded House. Whereas a Branded House maintains the focus on a single, well-known and consistent brand, a House of Brands is home to numerous brands, each independent of one another, and each with its own audience, marketing, look and feel. P&G and Unilever are great examples of a House of Brands. For instance, you wash your laundry with Tide, not with P&G's Tide Detergent. When you're a teenage guy trying to impress someone, you bathe in Axe, not in Unilever Body Wash. A House of Brands works well for many large consumer companies, but it's not for every brand. Marriott is another example of an organization that has successfully taken this approach to their portfolio of brands over the years including brands from the high-end Ritz-Carlton to business-class Courtyard.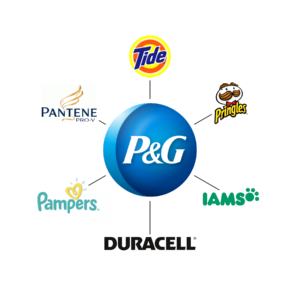 P&G House of Brands
Benefits
A House of Brands strategy can offer businesses with a variety of offerings the freedom and flexibility to flesh out each individual brands. Benefits include:
Reach – a greater ability to define unique target audiences and create products that broaden a brand's demographic reach

Safety Net – companies can take more risks with new offerings, knowing they have strong, tested brands to fall back on if necessary

Shield – in the case of bad press, the individual brand can take the heat while keeping the company's reputation secure
Pitfalls
Maintaining a brand isn't easy. Maintaining many of them can seem nearly impossible. There are many considerations to be made when constructing a House of Brands.
Overwhelming – creating and implementing multiple marketing strategies and operating many individual service lines is difficult and costly

Isolation – there isn't as much power behind the parent company, so it cannot be relied upon to bolster the reputation of individual brands

Image – significant confusion over the parent company can occur (do they represent the brands, or do the brands represent the company?)
The Question of Hybrids
While House of Brands and Branded House are the two most common brand architectures, there are certainly hybrid companies out there. Most often, they are big businesses with a lot of brand cache and long histories of maintaining trust with consumers. Prime examples are Coca-Cola and Pepsi. Each is known for their token product offering, but each company is also parent to numerous other stand-alone brands.
Marketing Considerations
So, why does brand architecture matter to you? Just like your house, your brand's architecture tells a story. It appeals to different audiences in different ways and is an indicator of what consumers will find within. It builds perception and creates relationships that are crucial to the success of your business. Knowing how your brand interacts with consumers is the key to determining the right brand architecture for your company.
Your strategy also impacts your business internally. It will have an impact on how you create budgets, the operating structures of your teams, and especially, how you communicate, both within and outside the business. Expect that, as your company acquires new business lines and brands, your internal structure and operations will change, sometimes drastically. Being prepared with a strong foundation will help keep you on your feet, even when everything around you is shifting.
Perhaps you operate a House of Brands but are finding that more consumers are building trust with your parent brand, and a Branded House may make more sense. Or maybe you're just starting out and aren't sure what style and strategy works for your business and the people you serve. Wherever you are in constructing your brand architecture, we at Willow are here to act as your contractors. We'll help you lay the right foundation and build a house that will welcome all who enter. You've got the blueprint; we've got the hammer and nails. Let's get started.
If you'd like to learn more about brand architecture and how it impacts your business, get in touch with Brad.