Specifically, your trade show booth. But also my old house.
Last year I decided to take on a project that has since led me to question my sanity. I bought an 80-year-old house. Eight. Zero. If she were a Golden Girl, I'd call her Rose. She's sweet, but she's got a lot of quirks. When I got her, she needed new gutters, new garage door, electrical work, a paint job, and the list goes on. The first few weeks I spent in my new home were not pretty. Picture it: me, sitting in the middle of what should be a living room, surrounded by boxes, weeping. What does this have to do with trade shows, you ask? I'll tell you. As I sat there in the chaos, regretting my life choices, I had an epiphany. I loved this house. I wanted this house. And I was going to make it work. How? By treating it like one of my professional projects, which are most often planning and managing events for clients. It wouldn't be easy, but by planning my reno like I would plan a trade show booth — one piece and one month at a time — I knew I could do it.
Similarly, when you take on the often overwhelming task of planning for a trade show, you can feel that your time and energy is completely consumed. So, let's break down this big investment of yours.
You hear about a trade show or exhibition that would be the P.E.R.F.E.C.T. for your business — the right audience, the right location, the right time. It's a no-brainer. You sign up. You break out your credit card, book the booth space. And then… what? You just show up on opening day, right? Yeah, not so much. My 80-year-old bungalow did not end up looking like a Fixer Upper house as soon as I unpacked a box. (And it still is not Joanna Gaines-worthy, but with enough shiplap, anything is possible.)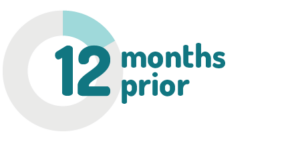 Sorry, but there's no rest for the weary. This is the absolutely vital pre-planning stage, and it is the key to setting you up for success! Have you picked your booth space? Look over the floor plan, think about traffic patterns, and how attendees will move through the space. Just like that fixer upper, what matters most is LOCATION, LOCATION, LOCATION. (Which also happens to be the reason I bought my darling, gutterless bungalow.)  
Read through your contract and be sure you understand the payment schedule and rules. Put the deadlines for hiring labor, ordering electric, ordering furniture, buying an ad in the program ON YOUR CALENDAR. Do it now. I'll wait.
And finally, set your total budget now. No, really, set a budget. Some events can set you back by hundreds of thousands of dollars, which might be ok for your business and work with your expected ROI. Oooorrr, you could be left with some 'splainin' to do to your boss or board. And that's a conversation no one wants to have. When thinking about a budget, consider the following factors: the size of the booth space, flooring, furniture, electrical, the display, literature, promotional items, travel expenses, labor, graphic design work, time for your team to be away from the office, pre/post event communication, and social media posts.  
(I know, it sounds scary. Remember, one piece at a time. Grab a cocktail, a notepad, and a pen. We will get through this.)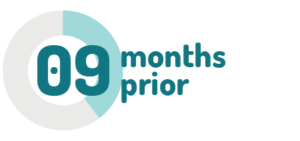 Identify the objective of the trade show and your attendance there. Do you want to sell something at the show, and if so, how much? Do you want to book consultations — how many? Get emails, collect business cards – how many? Showcase your brand — what does success look like? You get the idea. In short, set a goal. Your team will thank you. You will thank you (9 months from now).
Dig out your existing trade show booth and decide if you need an upgrade, new graphics, or a completely new booth. Think about your goal — what do you want to walk away with? Your primary objective will drive your booth design and what colleratal you create to take with you. Now is the time to pull in a creative agency. Do you have one you've worked with in the past? If the answer is no, it's time to put out those feelers. Share with them your hopes, your dreams, your love of the color chartreuse. But, more than anything, share YOUR BUDGET.
While you're doing this, don't forget to look into pre-show advertising buys in industry trade publications and conference-sponsored publications, and count those buys in your budget. Get them booked and put the deadlines … where? ON YOUR CALENDAR. (Good. You're a fast learner.)  
Create a communications plan to reach prospects. Include pre-event, on-site, and post-event communication; media buy, newsletters and blog posts, and website updates. Use email and direct mail for your communication. Work with your agency to decide when, how, and what messaging to include. Review the exhibitor paperwork for the rules and timeline of email/mailing lists.
Now, it's time to make some decisions. Hopefully you have an agency by this point to help guide you. (And hey, if not, I might know someone… ) Work closely with your creative team and be sure you give them plenty of time to start working on the concept and design!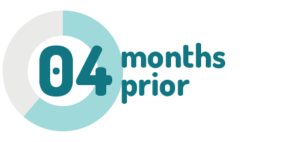 Make a list of the literature and marketing materials you will need at the show. Do you need new pieces? Reprints of current materials? Figure this out now so you can still make printing deadlines, especially if you still need design. (I can guarantee your agency will be forever grateful.)
Determine staffing requirements and develop a booth schedule. Who is going to be your team on the ground? You don't want too many. You don't want too few. Oh, and you don't want the wrong people. Yes, the wrong people. You need a group that will draw people to the booth and can easily carry on a conversation. I'm not saying leave those introverts at home, but, well they'd probably appreciate that, too. Obviously, you will want your sales team there. What about someone to "take care of the stuff" — who runs to the store to pick up a phone charger because you forgot one, grabs water for the team, or takes pictures of your competitor's booth? (I've done all that stuff. Wanna bring me along? I can make friends with a plant!)
Ok, you've figured out the team. Now, work on their travel and living arrangements. What kind of rooms do they want/need? How are they getting there? Flying, renting a car, car-pooling? Who is booking all of this? Is each person responsible for their own travel? Do they have a company card or are they expensing it? (Now take a sip of that cocktail. You've got this. And if you don't, call me. I've got this.)
Turn time on promotional items can be lengthy, so don't forget about those pens, bags, or sticky notes. Keep working with your design partner on your booth display — most likely you will need to start finalizing everything in the next month. And confirm delivery dates — the warehouse delivery date is typically 2-3 weeks before the show.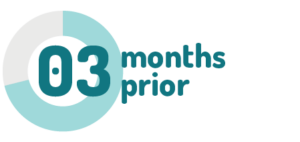 I know, you have a other responsibilities. But this event is going to be GREAT. How do I know? Because you've planned for success. You've done the research, you've crossed your i's, dotted your t's, and you are in the home stretch.  
Review the list of services you need to purchase for the booth: electrical, flooring, furniture, housekeeping, labor. Remember, there are often discounts for early reservations.
What will your team be wearing? If you are going with branded apparel (and all together now, "Yes, we will be wearing branded apparel"), you will want to pick it out now. Think about what will keep your team comfortable, allow them to move around, and look professional. Will the staff pick from a variety of shirts, sweaters, jackets? Or just one option? Make sure whatever you pick has a range of sizes and make sure it fits your brand.  
I'm betting your design team is blowing up your email asking for final approval on the booth layout and design, right? I know you still have three months. But it is time. Give it one last look and give it your blessing. Release it. Watch it soar. It will be beautiful.
Review your marketing plan, specifically your pre-event communications plan. In the next two months you will need to update your website, release direct mail files to the printer, and post blogs. Are you ready?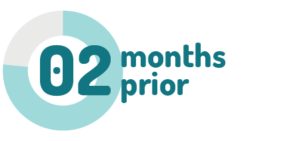 You've done the heavy lifting, now you're just checking stuff off your to-do list:
Place orders for any printed material

Verify hotel and travel reservations

Send any pre-event direct mail pieces to print

Check your calendar for any order deadlines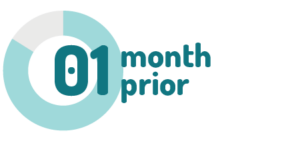 The show is around the corner. It is time to … Confirm. Confirm. Confirm.
Pull together tracking for your shipments

Check the show schedule for set up and disassemble times

Have your sales team confirm appointments

Get shipping labels for return shipping if necessary

Finalize your booth schedule

AND. TRAIN. YOUR. STAFF. I am sure they know how to do their job — they excel at their job. But set them up for success at this event. What are your expectations? How should they dress? What is the schedule?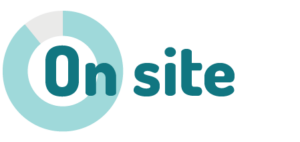 I don't like to be rushed. And I don't like chaos. I like to arrive early. You probably won't be able to set up early — there is a set-up schedule for a reason. But take advantage of the opportunity to get oriented with your surroundings. How do you get from the hotel to the event? Where do you check in? Where do you pick up name badges? Will shipments be in your booth? (Where is the closest Mexican restaurant with the biggest margaritas?)
Now is also a good time to locate the electrician/labor/service area and confirm the installation date and time for your display. And ya know, make friends. These are good people to know, especially if something is not going as planned.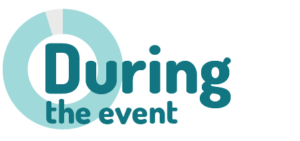 Most importantly, have fun! You did it. 12 months of planning, checklists, and now you can kick back and relax with a cold one. Not quite, but enjoy the fact that you made it this far.
Make time for a bit of competitive research. What are other companies doing? What are your biggest competitors doing? Whose booth do you like? How are other companies manning their booth? Remember my suggestion for having a person dedicated to doing this? It's a great idea.   
While in the moment, have informal conversations with your sales team about the quality of the interactions and of the show. You need to decide if this is a show worth attending next year. (If so, think about scouting out the perfect location and booking it while you are there!)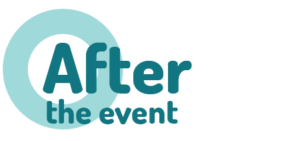 Take the booth down. Don't shove it in a box like you do with your Christmas lights. Keep in organized. You will thank me next year.
Plan a debrief with everyone who worked on the project. Get a list of ideas and suggestions on what worked and what didn't, then add that into your planning for next year. Please do this. Everyone has thoughts — even the person who booked the hotel rooms. Trust me, she has thoughts.

Don't forget post-event communications! Do you want to send an email blast to the entire attendee list? You DO want to send a personalized follow-up to the solid leads. And you DO want to do it within two weeks.
Almost done. Review your expenses. You still breathing? How did it compared to your budget for the show? Determine your return on investment. Winning? I hope so!
Finally, do what I did once I had my Golden Girl through some of the toughest renovations. Draw a bubble bath, pour a glass of wine, and enjoy your success.  Because tomorrow we are reviewing next year's contract, and you'd better be ready!